Enjoy a five-star stay at Country Inn & Suites by Radisson
Written by Kathy Witt
A quick surf through reviewer comments on TripAdvisor will tell you why the Country Inn & Suites by Radisson is ranked a No. 1 hotel in Georgetown.
"Location is excellent, plenty of food choices close by (many within walking distance), facility is always spotless and the staff is friendly and welcoming."
"We loved the layout of the rooms here!! There was a very nice sitting area with a small sofa, chair, desk and TV. This was separated from the bedroom which also had a TV."
"[T]he breakfast buffet was very well organized and plenty to eat. Even with the COVID restrictions the staff did a wonderful job."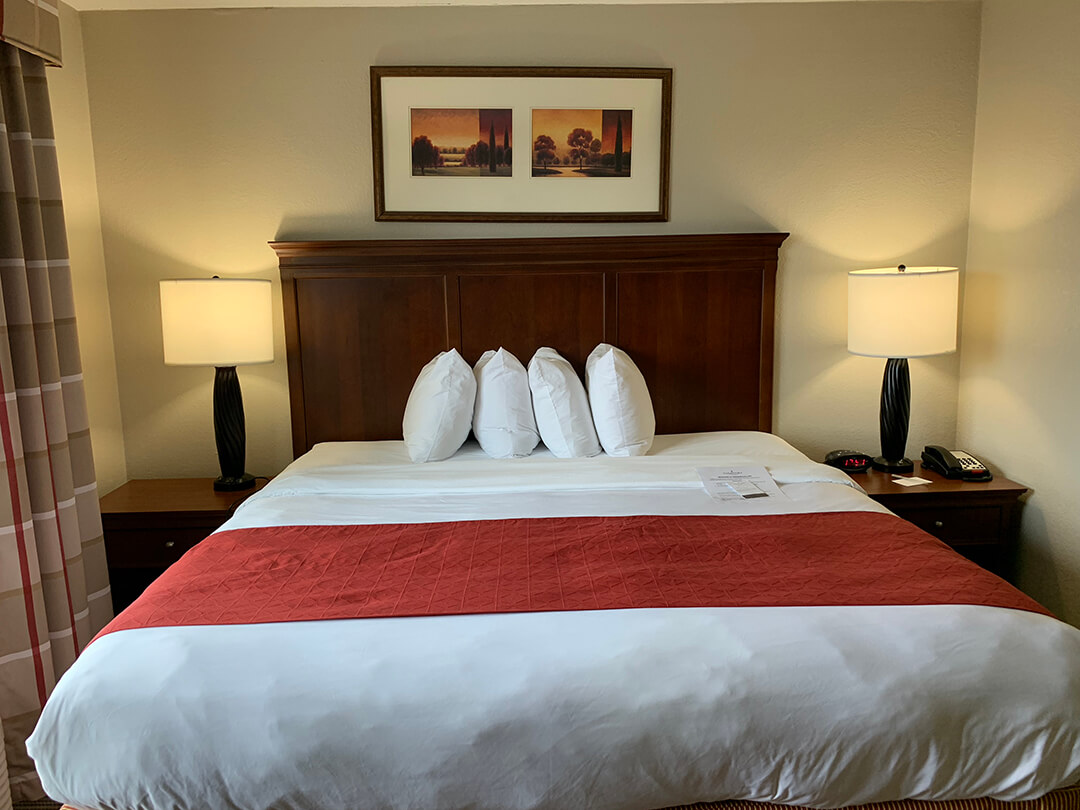 This TripAdvisor Travelers' Choice 2020 hotel consistently earns five stars from reviewers for cleanliness, staff friendliness and helpfulness, convenient location, the hot breakfast buffet, a cozy and inviting lobby and more. But this Country Inn & Suites by Radisson and its owner, Roger Rama, are not content to rest on their laurels.
Rama responds to each and every reviewer, expressing his appreciation for their choosing to stay here and for taking the time to write a review. He welcomes repeat visitors back, includes a word about his outstanding team in the success of visitors' stays and closes with some variation of "look forward to seeing you again."
The hotel is constantly being upgraded. Most recently, bathrooms were renovated and guestrooms were newly recarpeted. Rooms are spacious and pretty, with plush beds and goose-down pillows, work area and relax space, refrigerators and microwaves, free Wi-Fi and 32-inch flat-screen LCD TV, among other amenities.
Guests love the hotel's lobby with its appealing Kentucky country décor and atmosphere of homey living room. A fire crackles in the stone fireplace that is flanked by bookshelves and comfy seating invites guests to take a load off and unwind. They also appreciate the complimentary hot breakfast that includes bacon and eggs, waffles and French toast, fresh fruit and so much more.
Guests relish the peace of mind that comes with the hotel's smooth, contactless check-in process. And they really go for its pet-friendly policy, especially appreciated during a pandemic when more and more people are traveling with their four-legged family members. This is a hotel that works hard for and earns those reviewers' stars.
Country Inn & Suites by Radisson offers numerous deals, including military discounts and special rates for emergency and medical personnel. The hotel currently requires the use of face coverings in all public areas. In addition to the hot buffet, individually packaged to-go items are available for breakfast. For more information, visit the hotel's website or Facebook page or call 502-316-6065.
Learn about other award-winning Georgetown hotels here.
Hotel to Home Hack: "We love to use vinegar to get rid of any type of odors!" Roger Rama
---
Author: Kathryn Witt
Kathryn Witt is an award-winning travel and lifestyle writer, syndicated columnist and author of several books, including Secret Cincinnati, The Secret of the Belles and Atlanta Georgia: A Photographic Portrait. A member of SATW, Authors Guild and the Society of Children's Books & Illustrators, she lives in northern Kentucky.
---
---