These is no better feeling than the experience of creating something with your own two hands! Try a class or workshop at one of our local spots to create a memorable take-home souvenir.

---
Birdsong Quilting and Crafts
Offering regular, monthly classes that are offered for all levels, beginner to advanced for a variety of interests like paper piecing and block quilts.
CONTACT:
Website: https://www.birdsongquilting.com/classes.htm | 502-603-8211 | 228 East Main Street
---
Bless your H'Art
A fun and family-friendly paint-your-own pottery and craft studio. Offering Pottery Wheel and Clay Classes, kids classes and camps, Ladies Nights, special holiday events, and lots of other opportunities for friends and family to come together and have fun.
CONTACT:
Website: https://www.loc8nearme.com/kentucky/georgetown/bless-your-hart-pottery-paint-crafts/6139422/| 502-642-5330 | 401 Outlet Center Drive, Suite 300
---
Crafty N'Blessed By Alicia
Join in a Paint Party for personalized door hangers! You are supplied the wooden shape cut out, brushes, easels, aprons, hanger, ribbon, paint and all supplies needed to create a masterpiece of your own to take home.
CONTACT:
Website: https://craftynblessed.com/paint-parties-1 | 100 North Hamilton St
---
Heirlooms & Gretchen's
Heirloom & Gretchen's stained glass classes are held 10 a.m. to 12 p.m. every Thursday and Saturday. New students begin in these classes every six weeks. Their first project is a copper foil piece. Students choose from a pre-selected group of patterns to ensure they go through each of the steps in making a copper foil piece during these classes.
The finished product is a nice sized piece to hang in a front window. Following the first set of classes, students may continue coming to class on the same days and can then broaden their horizons by trying other techniques, designs and projects.
CONTACT:
Website: www.heirloomsandgretchens.com | 502-863-2538 | 136 West Main St
---
Meraki & Moon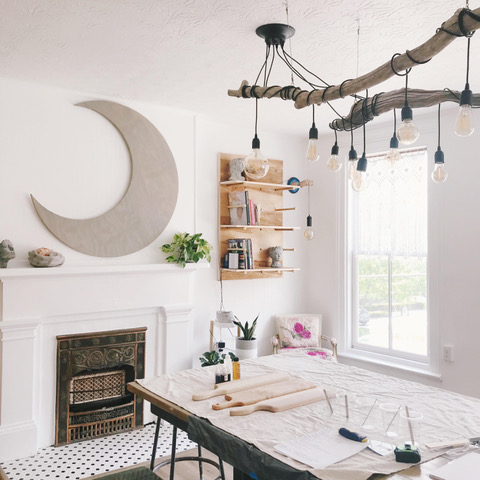 Workshops are an important element overall of the Meraki & Moon experience and began in the shop. Led by artist-experts, the variety of small, intimate workshops – Folk Art Paint Your Plate, Bead-Embroidered Stone Pendants, Book Binding – are geared to four to six participants. Additionally, the shop offers empowering workshops with healers like Natural Lifestyle Coach Tamra Wells plus paint and sips.
CONTACT:
Website: https://www.facebook.com/merakiandmoon | 502-603-8122 | 100 South Broadway St