Georgetown Welcomes New Extended-Stay Hotel In 2023
When the TownePlace Suites by Marriott Georgetown opens in the spring of 2023, not only will it be the newest hotel in the area, but it will also be Marriott's only extended-stay hotel in Georgetown. And it will be bringing a lot of amenities with it.
---
House On Main & Rucker House
Guests arriving on the doorstep of the House on Main or the Rucker House travel back in time 150 years to the late-1870s when Scott County was busy making a name for itself in hemp production, an industry established the century before by Reverend Elijah Craig (more widely known for his groundbreaking work in bourbon) and once Kentucky's largest cash crop.
---
Elizabeth's Tees
Elizabeth owns Elizabeth's Tee's and More, a small business located in a little brick house shared with Karla's Kuts in Stamping Ground. Her specialty is tee-shirts – any and all kinds, from bleached to non-bleached and in sizes ranging from infant to adult...
---
Sleep Inn & Mainstay Suites
Georgetown's newest lodging choice, the Sleep Inn and MainStay Suites, is a contemporary dual brand offering 71 guestrooms under one roof and a full menu of amenities that enhance any stay. These include complimentary freshly prepared hot breakfast and free coffee, fitness center, food pantry, electric car charging and an onsite laundry facility.
---
2021 Holiday Shopping Guide
With nearly 40 shops, boutiques, galleries and restaurants located within a scenic and strollable six-block area, historic downtown Georgetown is a shopper's haven for the holidays.
---
Anniemals Sports The Liveliest Window Displays In Georgetown!
Anniemals Art Studio may be the only business in Georgetown to feature live art displays in its front windows. The active and ever-changing displays come courtesy of three resident rescue kitties – Zorro, Gypsy and Winter – each with an eye for the creative. READ MORE
---
Gray Arbor Farm blooms with specialty-cut flowers
From big box to bouquets, Chris and Kelly Stanley, owners of seasonal specialty-cut flower farm Gray Arbor Farm, traded in their power couple career in retail for life on a farm.READ MORE
---
Hotel pair brings Southern hospitality plus to guests
The Best Western Plus Georgetown Corporate Center and the Comfort Suites are Darby Street neighbors, located just two miles outside of Georgetown's historic downtown district. Both offer a full menu of amenities, including fitness facility, free parking and indoor heated pool (in fact, the one at Best Western Plus is the largest in Georgetown). Each is surrounded by a choice of well-known restaurants like Cracker Barrel, Ruby Tuesday and Fazoli's Italian. READ MORE
---
An Interview With Georgetown's Favorite Equine Photographer
Known for his equine photography, giclée prints and stunningly beautiful coffee table books like The Gift of Color: Henry Lawrence Faulkner – Paintings, Poems and Writings and Spanish Mustangs in the Great American West, John Stephen Hockensmith has had a lifelong love affair with photography, one that is in a constant state of evolution and transformation READ MORE
---
Georgetown's Fairfield by Marriot is All About Kentucky
Guests may be staying at one of the most well-known hotel brands in the world, but there is no mistaking they are in Kentucky – specifically Kentucky Horse Headquarters in Georgetown – when checking into the Fairfield by Marriott Lexington Georgetown/College Inn READ MORE
---
Em + Me talk spring trends
At the intersection of trendy and affordable is the Em + Me Boutique, a shop and concept created by a "girl boss team built on faith, family and community." Their mission? Provide a scrumptious mix of trendy and comfy for all sizes, emphasis on quality and cute. READ MORE
---
Experience classic Kentucky horse farm respite at the Bed and Breakfast at Queenslake
Guests to Queenslake get the royal treatment, a five-star experience that begins as soon as they turn into the main gate of this quintessential classic Kentucky horse farm with tree-lined drive leading to a magnificent white-columned manse. READ MORE
---
Springtime means course time at Canewood
In 2019, more than one-third of the U.S. population played, watched or read about golf. That's a heck of a lot of people – over 107 million, in fact – keen on a good walk spoiled, a quote often attributed to writer and humorist Mark Twain. READ MORE
---
Renovated, reimagined and ready for spring travelers: Motel 6 Georgetown and Microtel Inn & Suites by Wyndham Georgetown
Did you know that Motel 6 got its name from its room rate? Back in 1962, when two California contractors founded the budget brand, their intent was to provide no-frills accommodations at an affordable per-night price that would cover building costs, land leases and janitorial supplies. The amount? $6. READ MORE
---
As timeless as a diamond: Cravens & Lewis Jewelers
When Cravens & Lewis Jewelers opened 71 years ago in 1950, sock hops, sideburns and soda shops were all the rage in small-town America. As one of Georgetown's oldest ongoing family retail business, the store has seen downtown transform as the pages of history turned. READ MORE
---
Peace, quiet and a glorious outdoor shower at Linden Place Bed and Breakfast
A gazebo tucked in a cove of trees. Horses nickering in surrounding pastures. A soundtrack provided by nature. A country cabin perched on an acre of Bluegrass. Linden Place Bed and Breakfast in Georgetown is an antidote to a pandemic – or for any time you're looking to get away from it all. READ MORE
---
Crafty shop owner knows she is blessed
The shop is known for its adorable signs, door hangers and other decorations and home décor items that can be personalized for any gift giving occasion: baby showers, housewarmings, weddings, teacher and hostess gifts, birthdays or as a special gift for the buyer. The shop takes custom orders and everything is handmade. READ MORE
---
Historic loft puts guests in midst of buzzy downtown
Tucked on the third floor of a historic building, above the charming Miss Behaven boutique and overlooking Georgetown's Victorianesque Main Street, is a little hideaway called Cozy Downtown Retreat. READ MORE
---
'Simple Charm' says it all at this retail shop
Here is the place shoppers can come to when they need that tried and true item . . . the lights for the mantle or Christmas tree, a Candleberry candle, a flag for the garden, that really great sign with its humorous saying or message of inspiration. READ MORE
---
Enjoy a five-star stay at Country Inn & Suites by Radisson
This TripAdvisor Travelers' Choice 2020 hotel consistently earns five stars from reviewers for cleanliness, staff friendliness and helpfulness, convenient location, the hot breakfast buffet, a cozy and inviting lobby and more. But this Country Inn & Suites by Radisson and its owner, Roger Rama, are not content to rest on their laurels. READ MORE
---
Come Home to Home2Suites by Hilton
At less than a year and a half old, Home2 Suites by Hilton is Georgetown's newest hotel – but its emphasis is on home. The hotel is geared toward extended-stay guests and the atmosphere is home-away-from-home built around a concept of space and openness. READ MORE
---
Maime's mix of fine wine & gifts brings lots of smiles
Even the masks necessitated by a pandemic can't hide the smiles of the customers who find their way to Maime's Fine Wine & Gifts… READ MORE
---
Walk into history at the Alexander Bradford House

A stay steeped in the history of Stamping Ground, KY awaits Bluegrass travelers and staycationers! Standing for over 200 years, this antique filled home has survived weather, war and plenty of wear and tear. Experience this cozy stay on your next trip through horse country! READ MORE
---
Celebrate the seasons and special occasions at Miss Behaven

Bursting at the seams with locally crafted items, unique gifts, Kentucky Proud products, super cute clothing and more! This local boutique reflects its owner's love of quaint little towns that have kept alive their Main Streets and an atmosphere of small-town charm. READ MORE
---
'Best of Baymont' located in Georgetown

Road trippers and staycationers seeking great lodgings offering a location amidst lots of activities and attractions as well as plenty of amenities – including free Wi-Fi, hot/cold buffet breakfast and parking – will find it at the Baymont by Wyndham Georgetown. READ MORE
---
Georgetown Antique Mall: Equal parts love of antiques and community
The Georgetown Antique Mall is as much about love of community as it is about vintage finds. Back in 1971, after raising five children, Joann Duncan Sharpe set her sights on fulfilling a dream: creating a place to shop and talk, exchanging thoughts as well as antiques. READ MORE
---
Downtown Georgetown Historic Hotel Stay
The beauty of staying at lodgings owned by a craft beer maker is that there's a cold one waiting for you when you arrive. And it's the good stuff – the award-winning beers from Georgetown's own Country Boy Brewing. Experience a stay in the heart of historic downtown Georgetown! READ MORE
---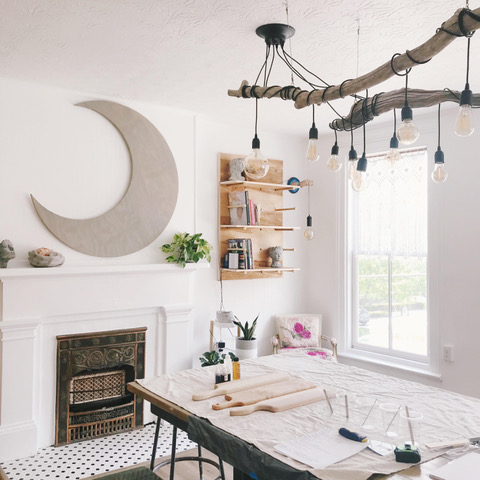 Meraki & Moon Owners Put Their Souls Into Their Shop
Meraki & Moon opened its doors on June 5, with a tag line of "Workshops, Wares and Wine Tap for Makers, Thinkers & Status-Quo Breakers," in downtown Georgetown – a place both owners love for its character, stories and people. READ MORE
---
Shoppers will want to find The Hidden Trove

In July of 2019, the shop at 127 North Court Street did indeed bloom into something beautiful. Step into this charming enclave of distinctive gifts, handcrafted artisan jewelry and warming home décor to a world where poking around and making your own discoveries has all the enchantment of wandering into an unexpected garden. READ MORE
---
Bleubird Studio is All This and a Yoga Studio!

Bleubird Studio provides a spacious, aesthetic and calming living space amidst the charming history and virbant businesses of downtown Georgetown. Filled with natural light, this perfect location for a family getaway provides private yoga instruction, art classes and even an art gallery for guests to wander at their leisure. READ MORE
---
Buffalo Springs Distillery: Can you say, 'bourbon immersion'?

Innkeeper Kayla Jones has a way for bourbon aficionados to get immersed in the bourbon experience in the very place (Georgetownians will tell you) bourbon was discovered. A stay at the Buffalo Springs Distillery Company in Stamping Ground puts guests within a short drive of downtown Georgetown and Royal Spring Park. READ MORE
---
Abby Mae's multiple mission
Shop owner Sarah Christian is on a mission. Actually, she's on several missions and they all have to do with clothes and canines. Not just any clothes and canines, mind you, but clothes that embody the belief that beauty comes in all shapes, sizes and colors, and one very special canine - a rescue dog named Abby Mae, that inspired not only the shop's name but an ongoing gives-back program as well. READ MORE
---
'Come on get happy!' at Whitney's Gift Boutique
Celebrating its one-year anniversary in Georgetown is Whitney's Gift Boutique. Originally located in Maysville, KY, this adorable lifestyle boutique has been around since 2008 – and that town's loss is definitely downtown Georgetown's gain. READ MORE
---
Like-new Holiday Inn Express has remote-worker day rates among amenities
With its completely remodeled guest bathrooms; thoroughly refreshed guestrooms, corridors, stairwells, lobby and meeting space; breakfast area redo; and round of new furniture and bedding and more, the Holiday Inn Express Georgetown looks and feels like a brand new hotel. READ MORE
---
From catwalk to curbside: children's boutique keeps kids' closets stocked
A solid ten on the adorbs scale, Georgetown's Seeds to Saplings has been outfitting children in sweet and stylish clothing since spring of 2011. The bricks-and-mortar boutique may be closed at the moment, but the shop is providing alternative ways for parents to preview and purchase high quality clothing and accessories, storybooks, toys, cuddly stuffed animals, seasonal items like goodies for Easter and more. READ MORE
---
Not your momma's Super 8 – and that's a good thing
Customized headboards that showcase slices of Kentucky heritage life. Modern tones of gray, black and white with splashes of soft green and Kentucky blue as accents. A neat-as-a-pin breakfast buffet and seating area. READ MORE
---