Generate your own Hallmark* moments in Georgetown
Written by Kathy Witt
The setting: A picturesque small town in Kentucky.
The cast: Visitors, shopkeepers, restaurateurs, chefs, bourbon craftspeople, extras.
The plot: Couples seeking romance and adventure discover it in Georgetown, KY.
There is a fun Hallmark movie generator online where one can plug in options to create that perfect Hallmark movie.
A (sassy) female (party planner) is unhappy because (she lost her dream job and therefore her way). Everything changes when she meets a (handsome) male (business owner) while they're (at a corporate event). Through crazy circumstances and with a little help from (a mysterious stranger), she soon discovers (love/happiness/the magic of a small-town holiday).
Although this generator is specific to Christmas movies, it can be used to generate some perfect Hallmark moments in Georgetown for Valentine's Day or any romantic outing in February:
An (adventurous) visiting (couple) is unhappy because (they lost their way). Everything changes when they arrive in a (beautifully preserved Victorian downtown) while they're (driving down Main Street). Through crazy circumstances and with a little help from (mysterious strangers – aka shop owners, chefs and a Master Brewer), they soon discover (love/happiness/the magic of a small-town holiday, in this case, Valentine's Day).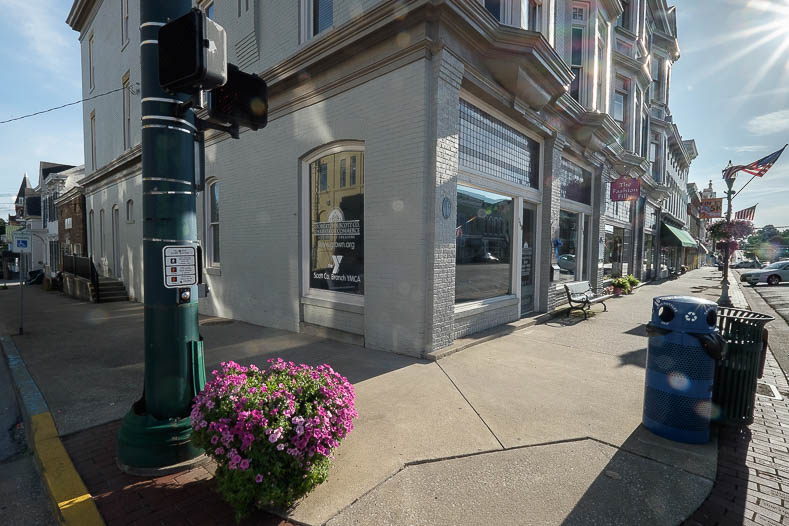 Plug in your choices and generate and create your own picture-perfect Hallmark moment and get swept off your feet in one of Kentucky's prettiest small towns.
1. Book a cooking show at BleuBird Kitchen. Venetian scallops anyone?
2. Amble arm-in-arm through historic lamppost-lined Downtown with a local latte. Pop beneath the striped awnings and into locally-owned art galleries and boutiques to choose a keepsake gift.
3. Sip a fancy craft cocktail at Local Feed Seasonal Kitchen + Craft Bar, then blend your own specialty spirits at Bourbon 30 with Master Brewer Jeff Mattingly.
4. Linger over dinner at a table for two at Rodney's on Broadway, known for its prime beef steaks and intimate ambience.
5. Enter a world of designer diamonds and jewelry at Cravens & Lewis to drool over the possibilities, then hide away at one of Georgetown's two dozen unique lodgings for the weekend.
*Hallmark Channel, owned by Hallmark Cards, Inc., is Crown Media Family Networks' flagship 24-hour cable television network. As the country's leading destination for quality family entertainment, Hallmark Channel delivers on the 100-year legacy of the Hallmark brand. For more information, visit www.crownmediapress.com.
---
Author: Kathryn Witt
Kathryn Witt is an award-winning travel and lifestyle writer, syndicated columnist and author of several books, including Secret Cincinnati, The Secret of the Belles and Atlanta Georgia: A Photographic Portrait. A member of SATW, Authors Guild and the Society of Children's Books & Illustrators, she lives in northern Kentucky.
---
---