Here's what's cooking in Georgetown

Georgetown's foodscape is flavored with down-home faves. Get the inside tips, tricks and recipes from Georgetown Chefs.
---
Chocomania is there for the chocoholic in all of us
Christine Sawalha has created nirvana in downtown Georgetown with her nearly year-old shop, Chocomania.
Chocolates, gifts and wine – a "one-stop shop for gifts" – seem to be what Georgetown needed.
---
Babes BBQ Serves Up Pulled Pork with a Side of Prayer
There are two things hungry diners need to know about Babes BBQ. First: Babes BBQ did not get its name from the famous sheepherding movie pig. It comes from manager Teresa Fraley's breezy never-met-a-stranger manner of addressing customers; that is to say, she calls everyone "babe." Second: The family-owned and operated restaurant is the only place in town where you can get a good meal, a warm hug and a sincere prayer.
---
SG Bake Shoppe is new Stamping Ground gathering place
The SG Bake Shoppe only recently had its grand opening, but months of hard work and TLC have gone into transforming the space in one of Stamping Ground's newest locally owned businesses. In fact, owners and sisters Ashley Zagaruyka and Jessie Zagaruyka posted about the journey to opening their doors on the shop's Facebook page in early May.
---
Evans Orchard's Sweet Apple Cafe & Bakery adds to long history of pie
How are ancient Egyptians, tomb sketches and Roman gods connected to fried pies? They are all part f the sometimes eyebrow raising, always intriguing story of this unpretentious pastry – one that dates to 6000 B.C. and the Neolithic Period with an early form of the delicacy known as a galette.
---
Cooking and dining with Chef Rodney Jones of Rodney's on Broadway
Rodney Jones' knack for cooking reaches back into his childhood, growing up with a mom who had a gift for cooking that included a meatloaf recipe unlike any other. That talent, honed over decades of cooking, including at his own restaurant, Rodney's on Broadway in downtown Georgetown. READ MORE
---
Meatloaf, music and mom's cooking at Golden's Pub and Deli
Last year, Patrick Golden traded in music for meatloaf. That's when the 30-year veteran Nashville session musician, known for his "chicken-pickin'" artistry, returned to his old stomping grounds in Georgetown's rural Newtown neighborhood and opened Golden's Pub and Deli. READ MORE
---
Far Out Espresso pours coffee for hep-cats
A converted antique horse trailer with a laidback vibe. Boss baristas. Roasted coffee beans that are right on. Far Out Expresso. READ MORE
---
It's hustle-bustle even in wintertime at Georgetown's Elmwood Stock Farm
Georgetown's farms stay crazy-busy in the summer and fall, but what happens during a long, cold Kentucky winter? We peeked past the fields at Elmwood Stock Farm, a 550-acre, sixth-generation family farm and Kentucky Proud member, to see what happens when the temperature plunges. READ MORE
---
Wilshire's serves up slices of Kentucky's past with its historic Kentucky cuisine

Here's something to think about the next time you sit down to a dinner of Kentucky bourbon-glazed pork chops, fried catfish or other traditional Kentucky fare at Wilshire's Restaurant: You are connected to a Kentucky that predates statehood. READ MORE
---
Desserts By Rebecca - A Celebration to Treat Tastebuds & Lift Spirits
The celebration begins when you walk in the door of this downtown "sweetery" that began a dozen years ago in the commercial kitchen of a residential Georgetown home. Desserts by Rebecca features intricate custom cakes that dazzle with their sculpted and hand-modeled designs and world-class desserts – from French macarons, Mexican wedding cookies, Italian panna cotta and traditional Kentucky faves. READ MORE
---
It's October – Time for a trip to the pumpkin farm
Pumpkin pies. Pumpkin cake. Pumpkin muffins. Pumpkin everything!
October is here and so are the pumpkins – ready and waiting for you in the fields and at the market stores of some of Georgetown's Kentucky Proud farms. Before you pick your fruit, get the inside scoop on the best pumpkin for your homemade fall desserts. READ MORE
---
Old Jailhouse Recipes
Over the years, jailer's wives left their mark on the kitchen of Georgetown's historic jail house, leaving their famous egg sandwiches, chili, homemade yeast rolls and fried fish in the memories of may a prisoner.
---
Bourbon Spiked Apple Cider
Kick off your fall season with your favorite fall flavors mixed with the spirit of Kentucky! This apple cider treat pairs great with the changing leaves and can be served both hot and cold for any occasion.
---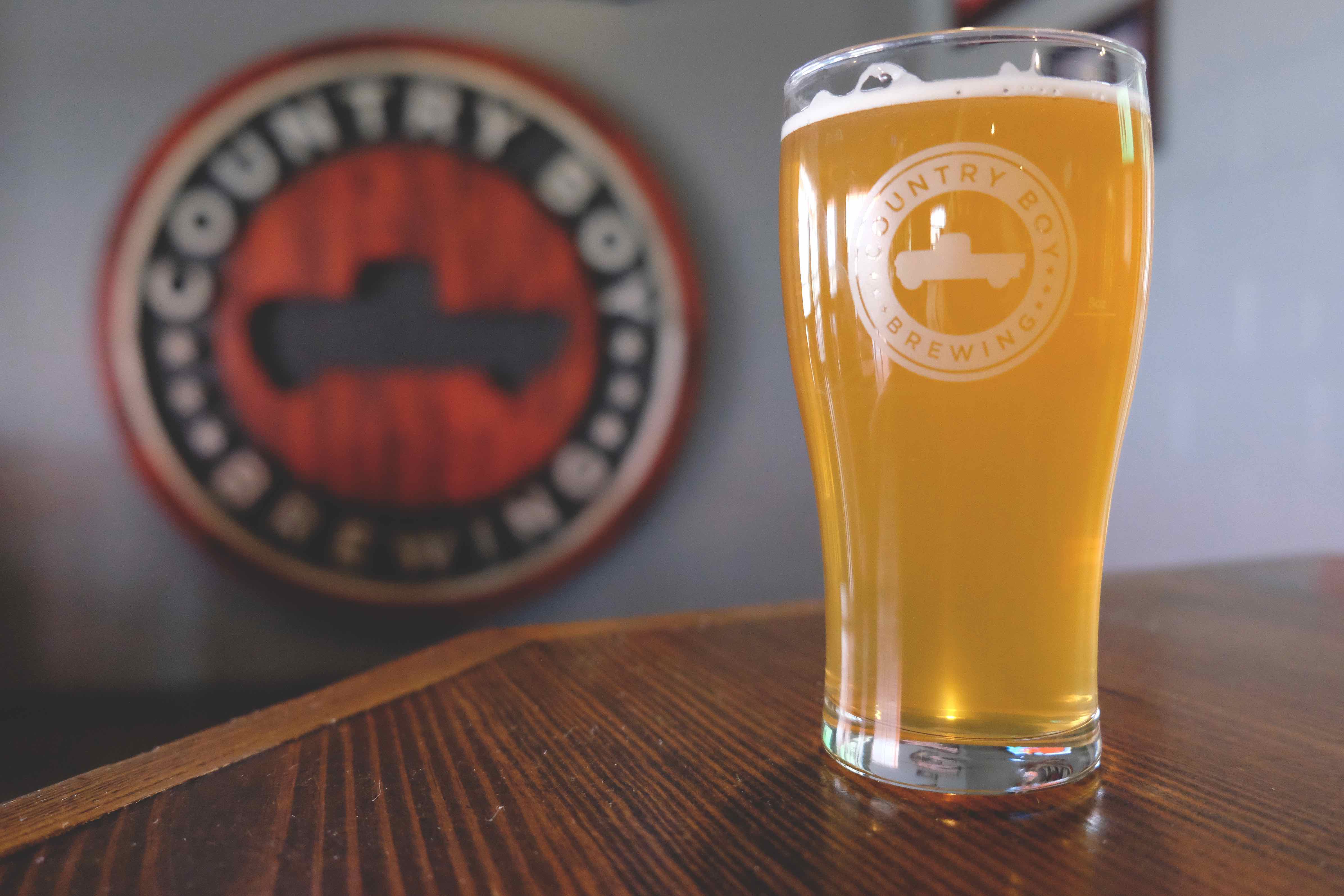 Country Boy Cougar Bait Biscuits
Country Boy Brewery fans looking to bring something sweet to their kitchens will find that these Cougar Bait Biscuits will hit the spot. With just the right amount of the brewery's flagship beer, this local brewery brings its own unique flavor to this southern staple!
---
May your day start great at Poor Mans Cafe
Bright and airy, with purple counter and yellow seating, this family-owned and operated eatery in Stamping Ground is the kind of place you'll want to spend many a morning and afternoon, enjoying the simple pleasures while tucking into Rhonda's down home country cooking – much of it made from generations of family recipes.
---
Copper Daisy's Tipsy Cherry Lemonade
This local Georgetown boutique is sharing one of their favorite sweet treats, with this mix-it-yourself hard lemonade recipe! Sit back, relax and enjoy the summertime flavors of Georgetown/Scott County!
---
Swap Worries For Welcome At Country Boy Brewing!
Those in search of Cougar Bait will find it here. Straightforward, blonde and clean – overall very pleasant company for a night out in Georgetown. And it pairs well with the Cutthroat Chili Dog from The Kitchen, located inside the Country Boy Brewing taproom, where Cougar Bait is one of several flagship beers.
---
Summertime Bourbon Slush
Blending together the sweet taste of citrus with the classic Bluegrass flavors of Ale-8-One & Bourbon, there's no better frozen cocktail to be sipping on in horse country! Try mixing this delicous Kentucky treat at home to beat the summer heat in true Bluegrass fashion! READ MORE
---
Spotz Gelato Peanut Butter & Banana Gelato
Try making this delicous summertime-treat courtesy of Spotz Gelato! Blend together creamy peanut butter with a fresh banana infusion to make the perfect home-made gelato dessert to beat the summer heat. With easy to follow instructions, and a scrumptious result, this is sure to bring a smile wherever its made! READ MORE
---
It's More Than Cake!
This aptly named shop in downtown Georgetown isn't just about sweets! Breakfast biscuits, quesadillas, stuffed pitas, and so much more are made alongside mouth-watering cakes and baked goods to provide customers with all the sweets and savories they could ever need. Dive into the deliciousness that awaits you at More Than Cake, and try your hand at their specialty lemon sugar cookie recipe! READ MORE
---
Serving community one cup at a time
A Cup of Common Wealth is known for having cultivated a homey hangout where people feel welcome as soon as they walk through the door. Attribute that to owner Salvador Sanchez, who opened the Internet coffee cafe in downtown Georgetown last year, tucking it in a building that was formerly a subway and displaying inspirational quotes (Crafted with Love & Served with Gratitude) on the walls. READ MORE
---
Slainte Public House's Mountain Mule
It's another classic bourbon cocktail to bring some genuine Kentucky spirit right to your home! Slainte Public House shares this delicious drink recipe which is a fun Kentucky take on the classic Moscow Mule. READ MORE
---
Broussard's Delta Kitchen brings New Orleans to Georgetown
The chef invites you to put on some jazz music, open up a good quality Sauvignon Blanc and enjoy this recipe, an iconic New Orleans dish and one of the signature dishes on the menu at Broussard's Delta Kitchen. READ MORE
---
Fava's Hot Brown
It just wouldn't be your old Kentucky home without a home-cooked Hot Brown! Fava's of Georgetown is happy to share its take on this classic Kentucky open-faced sandwich for you to try in your own kitchen! READ MORE
---
Bourbon 30 Spirit's Black Cherry 30

Wind down your day with a black cherry delight. Georgetown's own Bourbon 30 Spirits is helping you mix a drink like a master with this recipe for the perfect sweet bourbon treat! READ MORE
---
Local Feed's Famous Mac 'n Cheese
In a world gone topsy-turvy by a pandemic, comfort food rises to the top of the menu for calming nerves and nourishing the soul. Local Feed's Chef Justin Thompson has the recipe for the most comfortingest of comfort foods – Famous Mac 'n Cheese – for you to try at home. READ MORE
---